Sports Therapist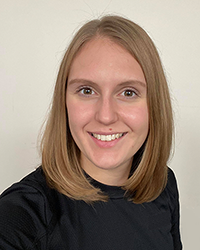 I started on my path to Sports Therapy 8 years ago when I studied a BSc in Biomedical Science at Cardiff University, and it showed me just how amazing (and complex!) the human body is. I then went on to study a Master's degree in Clinical Exercise Science at Portsmouth University, and this is where my career in fitness and healthcare started.
After my Master's degree, I worked as a Clinical Exercise Specialist, setting up and running Cardiac, Stroke and Falls Prevention rehabilitation classes in local Leisure Centres, all with the aim of getting more people active. Also around this time, I became a Sports Massage Therapist and Personal Trainer, and have been running my own business delivering these services for a few years.
Because I am always looking to learn more and progress my skillset, I went back to University in 2019 to study for a Master's degree in Sports Therapy. I have loved learning more about the body and how sports therapy is a crucial part of the prevention and management of injuries.
I'm a strong believer of a hands on approach to treatment, being able to reduce pain and improve movement through massage and mobilisations. I also enjoy teaching my patients about their body, and how they can take an active role in helping themselves to move and perform better at their chosen activity. It is so important that a therapist listens to their patient, and that we both work together to design a treatment plan that is effective, efficient and achievable!
In my spare time, you will usually either find me on a run, in the gym or on the back of a horse; I never sit still for too long! I'm not happy unless I am learning something new, so I am constantly adding to my skillset through training courses or reading the latest research. Come along to Body Reset Clinic and let me help you get back on track to doing whatever activities you love!